What to do in Alaska during the dark winter months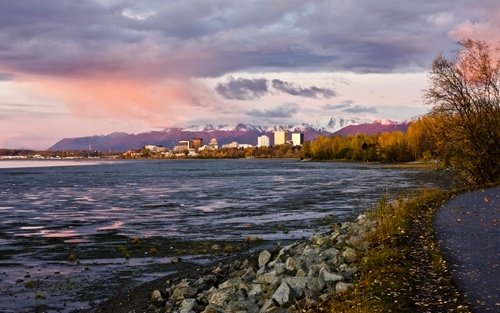 If you're looking for an adventure – and don't mind packing an extra jacket – you'll love taking an assignment in one of Alaska's cities. You can steal all kinds of deals for tickets up to this snowy escape during the winter. Contrary to popular belief, the northern most state isn't dark for six months out of the year. But, it does get dark as early as 2:40 p.m. – so many outdoor activities are harder to do in the dark. What can you do? Check out the list below for some inspiration!
Northern Lights
If you're stationed in Anchorage, you'll have the perfect opportunity to take in the breathtaking rainbow that paints the sky at night. The Northern Lights, also known as the Aurora Borealis, are the result of particles reacting to the Earth's magnetic field. It can be a challenge to catch the sky lighting up, as it's not a regular occurrence. Not sure where the best spots are to catch it? You can work with a tour – on foot or by water – that will be sure to get you a gorgeous photo op!


Transport yourself to a different time
Travel nurses stationed in Fairbanks have a long list of museums to visit in their free time. The Tanana Valley Railroad Museum brings visitors back to the Gold Rush. You can even step into the old locomotive that has graced the tracks since 1905! Or mosey over to the Fountainhead Antique Auto Museum to see how travelers in Alaska got around by car. You can get close to the first car built in Alaska. Fans of Downton Abbey will love the chance to gaze at the fashions of the time – and how they were transformed by the auto industry.
Theatre, Concerts & Volunteering
Alaska has a reputation for gorgeous wildlife, but small towns with very little to do. However, if you're stationed in Anchorage, you'll find a city bustling with activity all year long. Stay warm indoors by visiting the Anchorage Concert Association and see a performance. Musical theater fans can get their fix with top Broadway shows like My Fair Lady or Mama Mia! Drama fans will love seeing shows such as To Kill a Mockingbird. The ACA has put on shows for the past 25 years, making it an important part of the community. And it's always looking for volunteers! You can usher or work in the box office and meet fellow theater lovers.
More of a history movie buff? Walk over to the Alaska Experience Theater. You can learn about the 1964 Earthquake or see your favorite Arctic animals up close and personal on a huge HD screen.
Dark Alaskan winters don't have to be dreary. You can see different parts of each city and discover the vast history this state has to offer. Simply strap on your snow boots and enjoy!