Cities with awesome Meetup groups you can plan your assignments around
Being a travel nurse in a new city is exciting but meeting new people to enjoy adventures with can be a challenge. That's why we love Meetup. If you've never taken a look at this website and app, it's an awesome place to meet people like you, locals who love indoor and outdoor adventures. Whether it's book clubs or kayaking, you can find your group.
For outdoor adventure, Meetup hosts outdoor adventure in cities across the country. In fact, these events are the sixth most popular type of Meetup activity, with nearly 6,000 outdoor and adventure events taking place across the U.S.
If having regular outdoor adventures is an important part of your lifestyle, consider taking on nursing assignments in outdoorsy cities that embrace active living. Here are some of the cities with popular adventure Meetup groups:
1. Boulder, Colorado 
Boulder was named the happiest city in the U.S. by National Geographic, and with one visit to the city, it's easy to see why. Boulder is situated along the foothills of the Rocky Mountains, offering easy access to a wealth of rugged hiking trails, scenic vistas and thrilling rock climbing routes. The Boulder Social Hikers Meetup, with more than 4,000 members, is a great way to get to know people if you're new in town.
2. Washington, DC 
As a center of politics and bustling metropolis, Washington D.C. may not be the first place that comes to mind when you think of outdoor adventures. But in fact, Washington is home to many nature enthusiasts who enjoy hitting the trails outside the city each weekend. Mid-Atlantic Hiking Group (A.K.A. Outdoors for Health) is actually the sixth most popular Meetup group in the U.S., with nearly 19,000 members, according to Priceonomics.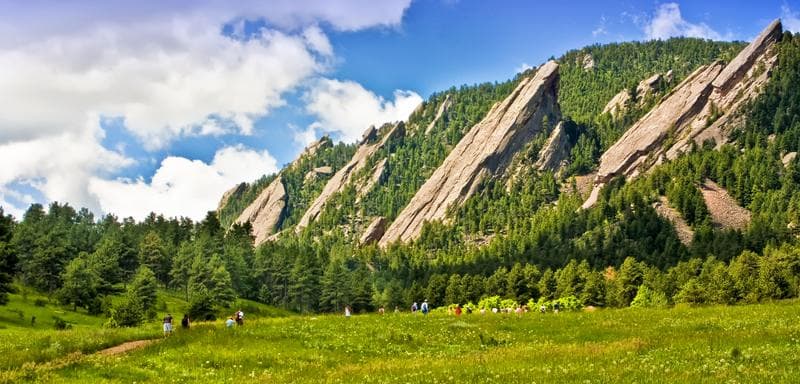 3. Provo, Utah 
Located near Utah Lake and the Wasatch Mountain Range, Provo serves up lots of fun weekends of hiking, fishing, mountain biking, rock climbing, mountain biking and more. One popular Meetup group is Out N Back Events, which has nearly 2,000 members. Attend everything from canyoneering sessions to backpacking clinics!
4. Poughkeepsie, New York 
The Hudson River Valley has inspired generations of artists with its natural beauty, and the city continues its tradition of having a reverence for nature through its active outdoor adventure scene. If you're located closer to the Big Apple, you can still take advantage of the great hiking, canoeing, horseback riding and other outdoor activities up north with Hudson Valley Hikers Meetup.
5. Ocala, Florida 
A warmer spot than the other cities on this list, Ocala is a haven for travel nurses craving outdoor adventures in a more tropical climate. Ocala has the benefit of being within a short drive from Ocala National Forest and the famed Juniper Prairie Wilderness, which spans more than 14,000 acres. Check out the Meetup group for the Sandhill Chapter of the Florida Trail Association.
If you're a travel nurse who loves exploring the outdoors but enjoys a little company, consider planning assignments in cities where Meetup groups are active.