Best camping on the West Coast for a long weekend
If you plan on pursuing a travel assignment on the West Coast this summer, be sure to make time in your schedule for a few camping trips. Between the gorgeous mountain views and sounds of crashing waves, among other gifts from Mother Nature, there's endless opportunity to soak up everything she has to offer as soon as you set up camp. With holidays like Memorial Day and the Fourth of July right around the corner, now's the perfect time to start planning a date with the great outdoors.
Whether you're searching for a spot on the beach, or you want to perch in the mountains for a weekend, here are some of the best camping spots to consider on the West Coast:
1. San Elijo State Beach Campground
This San Diego spot is ideal for those who are looking for a less traditional camping experience, according to the Visit California. You'll wake up to waves crashing and surfers getting ready to hit the water. The best place to set up camp is on the west side of the grounds, where you'll enjoy incredible sunset views from your campsite. During the day, you can take a three-minute walk up the road to the Seaside Market to grab some fresh catch for dinner.
2. Rocky Mountain National Park
If beachside camping isn't exactly your forte, head to the Rocky Mountains National Park in northern Colorado instead, where you'll get the classic outdoorsy experience. Sunset magazine said this site has a true backcountry feel. You'll spot elk and mule deer throughout the meadows when you wake up in the morning to your campside coffee. Head down the 2.3-mile Cub Lake Trail to take in gorgeous views of nature that lead you right to a quaint lily-pad-covered pond.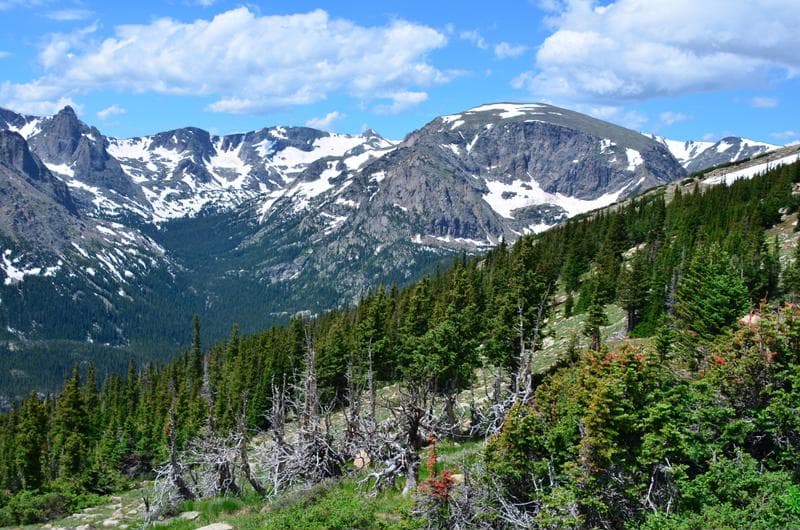 3. Pinyon Flats Campground
Another unconventional spot for pitching a tent, this campground in the Great Sand Dunes National Park in southern Colorado offers views of the tallest sand dunes in North America, complemented by 13,000-foot peaks of the Sangre de Cristo Mountains. Sit back and take in the atmosphere while you dip your feet into the Medano Creek this summer.
4. Lower Falls Campground
Located in Gifford Pinchot National Forest in southwest Washington, this campground has over a million acres made up of valleys, forests and mountains, and situates campsites right in the middle of it all for the perfect opportunity to disconnect with the world for the weekend. Enjoy various trails for hiking, mountain biking and horseback riding. Additionally, you can enjoy falls viewings all within 15 minutes of the campground at Lower Lewis River Falls, Curly Creek Falls, Big Creek Falls or Middle Falls, according to the U.S. Department of Agriculture Forest Service.
What's summer without a few camping trips? Check out these spots during your assignment on the west coast this season.